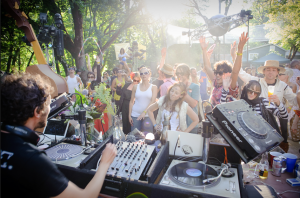 Ahead of next month's Texture party on the 16th of may @ Club 69, Eddie C reserved some time to answer a few questions.
*Hi Eddie, let's kick off with Record Store Day. This happened like a week ago, did you do something special?
Yes! My pal Zambon and I played a 4 hour back-to-back 7″ only party at Oye Kreuzkoelln.
It's so refreshing being around such a vibrant record store culture here in Berlin.
It's also incredible to me that the original Oye was busy enough to warrant opening a second location.
*Is there a record you still need desperately in your collection? We got some pretty good vinyl diggers over here, so maybe they can help out;).
There are a few yes… but I can't think of them right now.
I usually let fate take it's course. The records find their way to me most of the time.
Actually, now that I think of it, back in 1980 the Ganaraska River flooded in my hometown in Canada.
It was a small town and it was quite a mess. Since then they've had a river race every year called 'Float Your Fanny down the Ganny'.
There was a 45 made that year to commemorate the flood with a documentary on one side and a pretty corny tune on the flip.
I used to have a copy but I had to give it back to my friend's dad about 10 years ago.
*Also a few of your releases are quite limited (some even to 200 copies). Any reason for it?
The Honey Disco ones are really hard to make! Try getting a beekeeper to make more than 200.
*As you live in Berlin right now, which shop or venue would you hate to see disappear.
Yeah a lot of stuff closing. Crazy. Reminds me of Queen Street West in Toronto or the entire town of Canmore.
'Gentrification' seems to be happening all over the world. Things are too good!
I really miss Soju Bar.
*You've been releasing on Jisco Music, Endless Flight, Common Edit & Whiskey Disco (to name a few). How do you select these labels?
In the beginning I just sent music to whoever asked for it. I was pretty lucky to have almost always worked with descent folks. I'm a bit more selective now.
And although it's a lot more work, releasing on Red Motorbike (my own label) is the best.
*(Listen to some of Eddie's recent releases).
*Can you tell us something about the next releases coming up?
There's a new EP on Endless Flight due out early May and then one on Lumberjacks in Hell in early June.
I've also got the next few Red Motorbike releases ready to go. There's something in the pipe for Disco Deviance, Crue-L and Untz Untz.
And some remixes for KZA's album on Endless Flight.
*You've already been playing at a lot of different places and countries this year. What's been the best one yet?
That's a tough one. I have been to some pretty interesting spots lately.
I don't think I'll ever forget getting to travel to Murmansk. I had always wanted to visit the Arctic!
*How do you prepare yourself for a gig abroad because you can play a lot of different styles (as proven already on your albums as in your dj sets).
I usually spend a few hours slowly losing my mind in a pile of records at home.
I try to plan a few things but when you get to the party it's always some kind of Kung Fu shit that takes over.
*Name 2 or 3 artists to watch out for in 2014 (or who should need more exposure).
The Noodleman, Fake Glasses and Robert S all from Toronto.
*First thought that comes up when you think about Belgium.
'Craft Beer' which is almost always terrible in Canada and the US is done rather well in Belgium.
Or so I've heard.
Well, then we'll make a pit stop at a good beer house in Ghent when you arrive;). Looking very forward to the 16th & already big thanks for your time!